In-Depth Review of the Geekee G350 True Wireless Earbuds By TechGuru
Posted by RexW on
True wireless earbuds offer freedom from wires, but they do create new problems. You can end up with poor sync between the buds, or battery management issues related to the use of independent batteries in each bud. There are advantages to staying wired. But for people who love the freedom of being wireless, there's really no substitute to a pair of great true wireless earbuds.
GeeKee G350 True Wireless Earbuds
The GeeKee G350 True Wireless Earbuds are somewhat confusing. Though entry-level headphones, they're certainly on the higher end of the bottom shelf. That means you should generally expect some type of special feature, or a design with above-average qualities.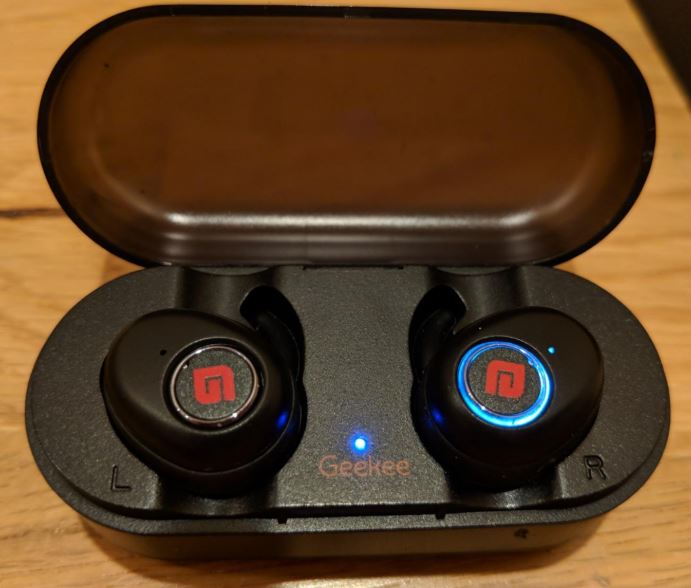 Perhaps their greatest strength is their high battery capacity, or maybe it's found among their full set of call features. One thing can be said for certain, it's not some type of special feature. The GeeKee G350's are remarkably average in almost every way. But not in every way.
Build & Design
Each earbud is about the same size as any other true wireless earbud. Perhaps they're slightly on the smaller side compared to the larger in-ear models that have become popular in recent years. Their lightweight design weighs about 4.5 grams per earbud.
With respect to style, the GeeKee G350's are fairly non-descript. The black buds have a slightly glossy casing, though it doesn't catch the light or create glare. The GeeKee logo is written across the opening of the case, but apart from that, the case is totally black as well.
They're built to be IPX5 water resistant, which basically means they hold up against sweat or light splashing. But you might not want to wear them in the shower because they're not ideal for even momentary submersion.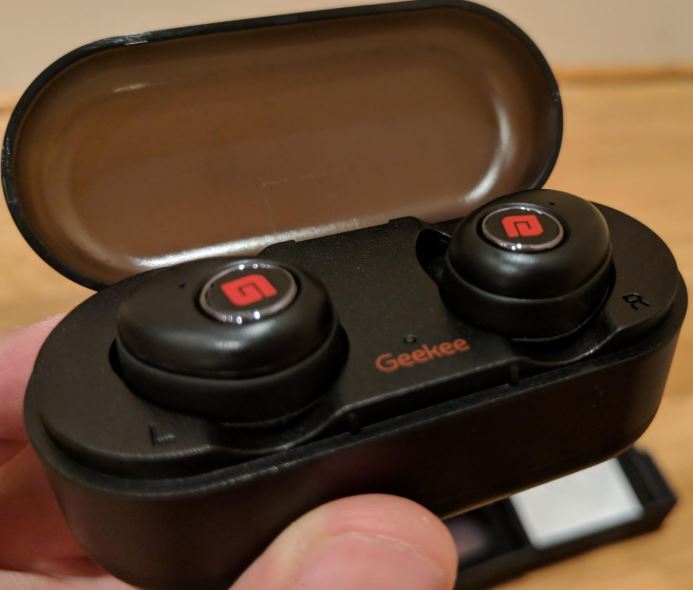 Charging Case
Interestingly, the GeeKee G350 earbuds have one of the smallest charging cases you'll find on any earbuds on the market. The charging case measures roughly 0.8 x 0.4 x 0.4-inches, making it barely large enough to hold the buds.
The casing is pretty intuitive. On the base, there's icons indicating which bud belongs in which socket. Placing the buds is also easy because of how their shape matches with the shape of the casing. It's also nice how the case snaps shut firmly, and generally keeps the earbuds well protected while they recharge.
Function Buttons
On the outer side of each earbud, the large red logo actually works as a function button. Between both earbuds, their touch buttons can help you do essentially anything you want to do with them. And without having to fiddle around with tiny controls that are positioned right next to each other.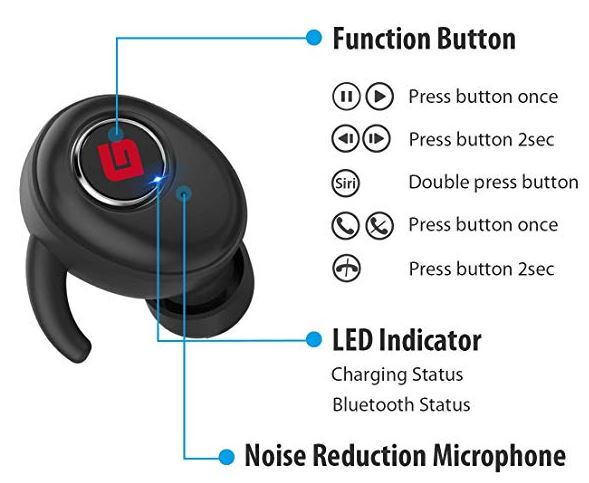 A single tap will play-or-pause music. Holding the button for two seconds can skip through tracks. A double tap will activate Siri. Because these controls are split between the left and right earbud, the whole thing is totally intuitive.
There's almost no memorization involved, and even if you forget, you can stumble your way forward to finding what you want. All it takes is a little trial and error. That level of ease of use can only be described as idiot-proof. You can literally throw away the user manual on-sight, and figure out the rest as you go.
Comfort
Each of the earbuds use a wing-based phalange to keep the earbud snugly positioned within your ear. The wing is a universal fit, though it might not be an appropriate choice for young children. The GeeKee G350's include two pairs of ear-tips, in two different sizes.
Providing only two sizes is actually unusual. Even a cheap pair of twenty dollar earbuds often include as many as three different sizes. The sizes included are medium and small, which means they ought to be able to provide a perfect fit for roughly nine out of ten people.
The tenth person is probably used to enduring medium-sized tips and could struggle through it. If you know from previous experience that you'll require larger ear tips, then you'll want to think twice about the GeeKee G350 True Wireless Earbuds.
Microphone Quality
No Bluetooth headset would be complete without a noise reduction microphone. The GeeKee G350's provide one. The microphone is fantastic at scrubbing small amounts of noise out of your signal. It compares favorably with any smartphone you might consider using instead of them.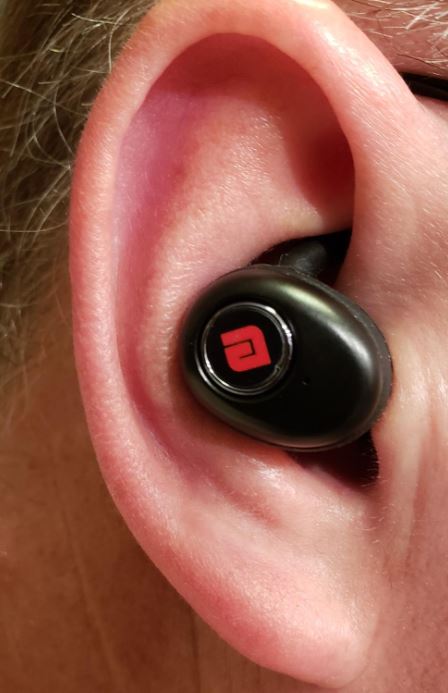 Of course, that comparison is a pretty low bar to set. Microphones made with more advanced noise cancellation and clarity features are capable of performing much better than that. For people who really need that level of clarity, it'll end up costing about two or three times as much as GeeKee G350's.
Instead of focusing on how the microphone performs in noisy environments, the GeeKee earbuds seems more focused on providing a rich base of call features. At the center of those call features is support for Siri. Though there isn't native support for other vocal assistants, it's not terribly difficult to get them working anyway.
Audio Quality & Wireless Connectivity
Audio is carried across Bluetooth 5, the latest iteration, for truly cutting edge wireless transmission. Consequently, you don't have to deal with a bunch of pairing tricks. Reconnecting to your smartphone or other devices will automatically happen any time you grab the GeeKee earbuds from their case. You can just pop the earbuds out of their case and go.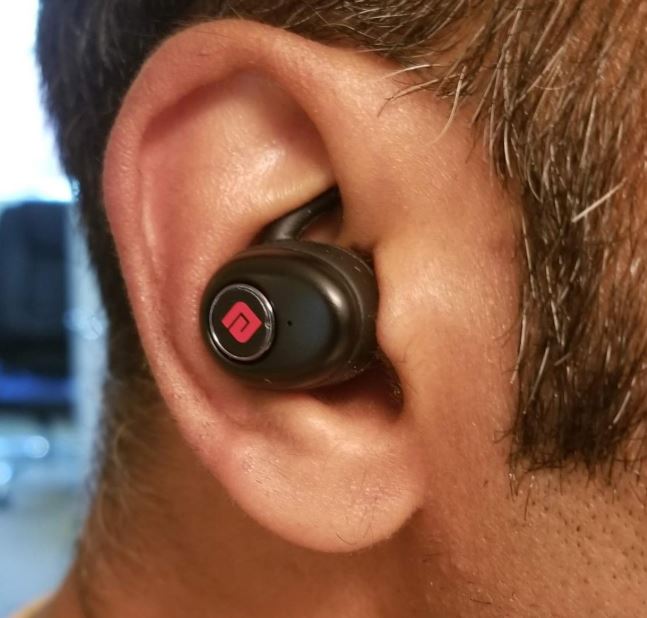 Much of that is possible because GeeKee G350 True Wireless Earbuds are made with a pair of high sensitivity antennas, intent on delivering steady signal without any intermittent heartbeat disconnections. The rest is Bluetooth 5.0, which is integral to how they provide higher levels of sound quality, and essential to how they maintain deeper bass and clearer treble. Though this also means their sound quality doesn't soar far above average, they still receive a passing grade.
The physical design of the earbuds helps contribute to audio quality as well, in more ways than one. But the one that matters to people the most is noise isolation. The GeeKee True Wireless Earbuds use ear-tips with unusually good noise isolation. In terms of comfort, they're comparable with almost any other pair of ear tips.
But when it comes to noise isolation, they have a slightly perceptual edge over many other brands. Additionally, the casing of the earbuds themselves are made to help block noise from your environment, keeping your music playing smoothly as you move from one place to another. Though you might not think of noise isolation as adding to audio quality, it can be far more important than you'd think.
Unfortunately, the added noise isolation does mean they aren't great for hearing the people around you talking. If you want to stay in touch with the environment around you, even without music, having the earbuds in your ear can make it a little difficult.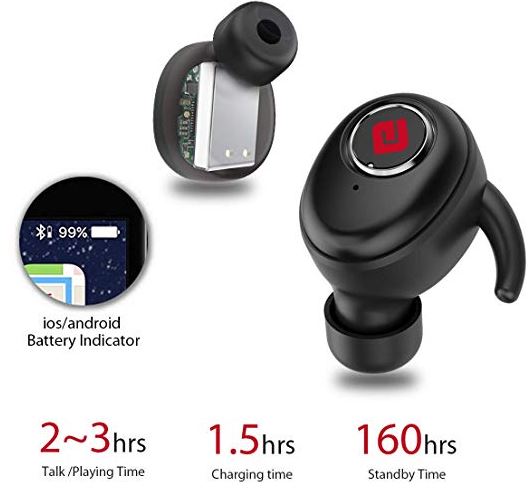 Battery Power
With respect to battery capacity, each earbud is capable of lasting for around three hours. You can squeeze out closer to 3.5 hours if you're mostly taking calls. You can do the same if you're conservative with your use of volume.
The total playtime extends to 15 hours when you start to include all the power contained within the charging case. The case battery is capable of recharging in about 90 minutes, and offers a full week of standby time.
Mono is another feature related closely related to their battery capacity. Either bud can be used in mono-mode while the other is charging. Being able to use either bud is very important because it means you can swap to another earbud while it's companion is charging. Operating in mono can nearly double the lifespan you'll get from these earbuds, out towards 28-hours of playtime.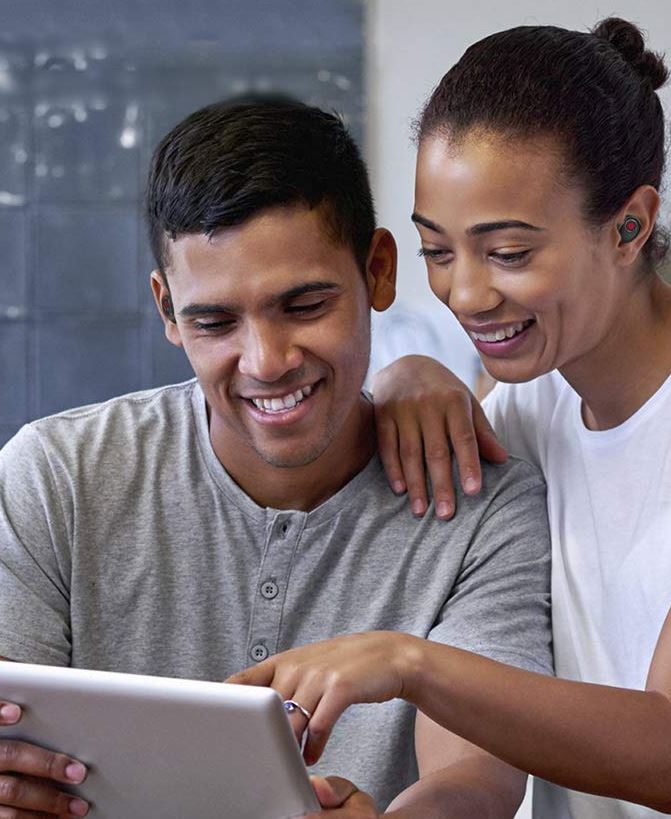 Other Considerations
The GeeKee G350 True Wireless Earbuds are compatible with essentially anything that supports Bluetooth. In addition to the ear tips, they include a 12" USB cable, which can help connect the charging case to a USB charger.
The first time you use the Geekee G350's, you'll need to follow a short installation process to get your kit up and running. It starts with charging the case, and then following some fairly simple pairing instructions.
After you've got everything connected for the first time, the earbuds will help connect the smartphone when it's removed from the case, and automatically turn off when you place them back inside the case to be recharged.
GeeKee earbuds can struggle to maintain a connection under certain circumstances. The buds seem to struggle in environments where there's lots of traffic in the air. If you're at a popular gym with a dozen other Bluetooth headsets being used around you, then you might find some problems with the connection.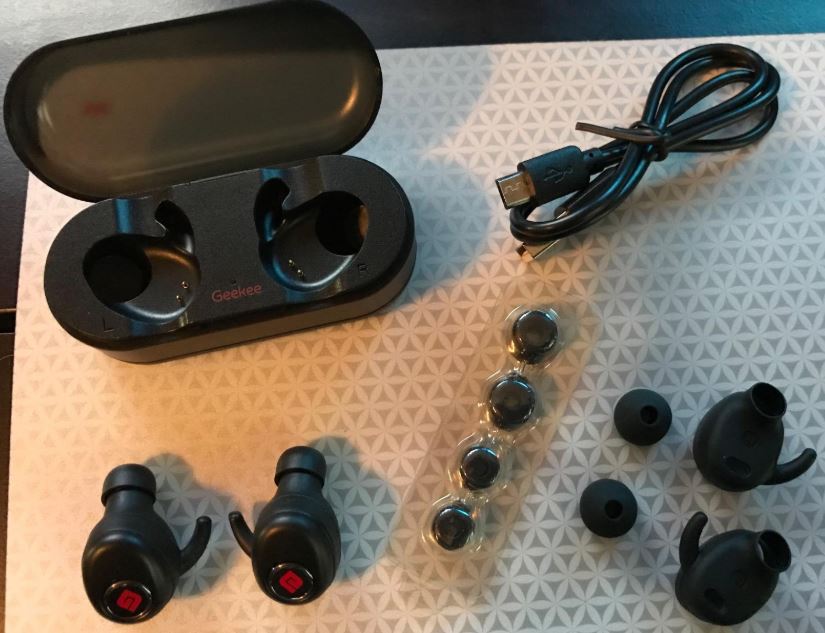 Who Should Choose GeeKee G350 True Wireless Earbuds?
GeeKee G350 True Wireless Earbuds are useful for a certain group of people. They're not right for someone who usually uses larger ear-tips. They're not ideal for someone who expects to take all their calls within a noisy environment. Even though they don't use an ear-hook, they do use a very effective ear flange which can help hold the buds in place almost just as well.
That doesn't mean these are athletic headphones by any stretch of the imagination, they do hold up pretty well while you walk around. The charging case is incredibly small, which makes it as easy to carry as a pack of gum. A pack of gum might be heavier, though. Consequently, these earbuds are fully portable in every meaning of the word.
The audio quality isn't going to knock your socks off, but if you expect average audio performance, you'll be surprised to find what you receive is slightly above average. Going totally wireless isn't for everyone. But for people who strongly prefer this type of headphone, and people who are shopping around in this price range, GeeKee G350's are worth picking up.
---
Share this post
---
---
---
0 comment